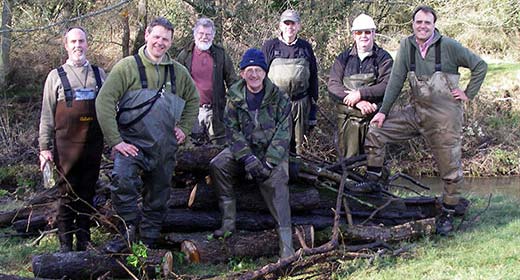 About Charfield Angling Association (CAA)
History - the CAA has existed for many years as a local organisation taking care of the river/it's environment to provide good quality, affordable fishing for it's members. Much of the Association's history involved match angling for coarse fish. However, in the last 20 years, erosion of weirs has changed the character of the river. As it's become faster and shallower Brown Trout/Grayling have become dominant, Chub and Roach (also Bream and Perch) less common, the latter much less so.
Governance - Day to day operation of the CAA is under the leadership of the Officers and Committee who confirmed by the members, annually at the AGM.
Approach - CAA's waters are unstocked, with barbless/de-barbed hooks and catch and release of all fish (with the exception of any feral rainbow trout) being mandatory. The goal of the Association is to ensure a sustainable fishery is maintained, with environmental and other challenges anticipated and overcome. In line with this, all members are required to: 1.) Submit an annual Catch Return (so issues can be identified and informed decisions taken) plus 2.) Attend a minimum of 1 habitat improvement working party (HIWP) a year.
The Association is an inclusive organisation (see Access Statement on Resources tab). It is a member of the Angling Trust and supporter of the Wild Trout Trust and the Bristol Avon Rivers Trust (BART), part of the River Trusts movement. Together we:
Undertake regular Riverfly Monitoring (supporting the Riverfly Partnership to assess and report on the health of the river) and Water-Blitz water quality analysis;

Deliver habitat improvement works including non native invasive Himalayan Balsam removal and plastic/litter picking/removal;

Foster wild fish populations, with no stocking on CAA waters and barbless hooks /careful catch and release mandated for all species (with the exception of escapee rainbow trout, though none have been seen in recent years);

Support the work of the Gloucestershire Wildlife Trust (including through reporting of mink sightings/evidence - aiding restoration of the Water Vole population).
Wildlife - the river acts as a valuable wildlife corridor and we work with our landlords to ensure this is maintained. Recent sightings by CAA members whilst fishing include: water voles, otters, roe and muntjack deer, king fishers, dippers, tree creepers, greater spotted woodpeckers, sparrow hawks and buzzards, wagtails, lampreys, bullheads and freshwater mussels.